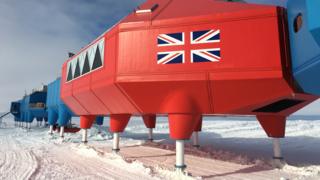 A member of the first group of journalists to call the British Antarctic Survey's isolated Halley Research Station for almost 20 times, Matthew Teller was charmed by the landscape, the team spirit, and amazingly even the architecture.
"Everybody who get south is running away from something, Matthew."
Up on the connection of the Royal Research Ship Ernest Shackleton, 2nd Mate Duncan Robb gives me a meaningful appear as he gives this slice of disbelief, and nudges a bar forward to guide the 5,000 -tonne ship towards an ice floe.
With a crunch and a shudder, the strengthened hull effortlessly separates the floe, and shoulders the ice aside as we plough onward through sub-zero-temperature liquid towards a flat horizon.
I didn't feel as though I was running away. It was more a lawsuit of being sucked inexorably back to a place I had called, all too briefly, once before.
Two years ago I was getting ready for an duty in Qatar. My schedule was sorted, my interviewees were primed. Then my writer phoned.