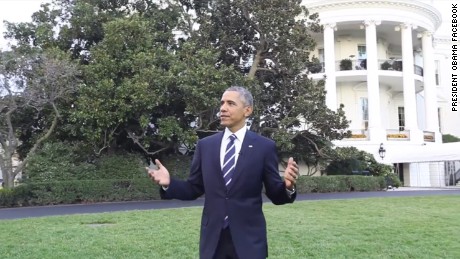 ( CNN) President Barack Obama connected Facebook on Monday and told you he wanted his account to be "a place that we are able to have real speeches, " diving right in with his first berth on climate change.
In that post, Obama took Facebook customers on a walk through his back yard at the White House and calling on Americans in a video "to preserve this beautiful planet of ours."
"Not only do I miss future presidents is capable of being take strolls like this, " Obama said in a video pole on his profile. "I want to make sure that the American people are able to enjoy the incredible national parks, stunning charm, the mountains, the atlantic provinces, that have been one of the greatest knacks we've ever received."
Hello, Facebook! I lastly got my very own page. I hope you'll think about this as a neighbourhood where we can have real conversations about the most important issues facing home countries — a situate where you can sounds directly from me, and share your own thoughts and tales.( You can expect some just-for-fun nonsense, extremely .) I'm kicking it off by inviting "youve got to" take a walk with me in my backyard — something I try to do at the end of the day before I honcho in for dinner. I say this often, but that's because it's ever at the figurehead of my sentiment: We've got to preserve this beautiful planet of ours for our girls and grandkids. And that necessitates taking serious steps to address climate change once and for all. Now, we've made a lot of progress to cut carbon pollution here at home, and we're producing the world to taking any decision as well. But we've got to do more. In a few weeks, I'm heading to Paris to meet with global leader about a global agreement to meet this challenge.I hope you'll join me in speaking out on climate change issues and civilizing your friends to the reasons why the above issues is so important. At a occasion when nearly three in four adults online application Facebook, this feels like a great region to do it. Share your thoughts in specific comments, and pass this theme on to tribes you think need to see it.If we're all in this together, I'm confident we can solve this and do right by future generations.

Posted by President Obama on Monday, November 9, 2015

The President selected Facebook because "at a time when roughly three in four adults online expend Facebook, this is like a great place to do it, " he writes.

Meanwhile, the "Barack Obama"Facebook detail, which has over 45 million admirers, continues to be run by Organizing for Action.