"A mystified shop with a mish-mash of products with no emphasis on the fact that this is supposed to be a shop specialising in cruelty-free, fair trade toiletries and make-up, " is Suzy Bourke's damning decision on The Body Shop.
The 42 -year-old stage manager used to be a regular shopper at the High Street chain, but now she tends to go to Boots instead.
And she's not alone. Its owned, cosmetics giant L'Oreal, am willing to offload the High Street chain, which has been suffering slowing sales.
The Body Shop, founded by Dame Anita Roddick in 1976, was a innovator using natural parts for its charm produces when it started out. It initially expanded, expanding rapidly, and by the 1980 s was one of the most well-known firebrands on the High Street.
I recollect the chain fondly from my youth, when it seemed to be an stimulating shop full of cheap, merriment and exciting concoctions. Coloured animal soaps, banana shampoo, lily-white musk perfume and strawberry shower gel were the high levels of 1980 s allure stylish as far as I was concerned.
But by the early 2000 s, contenders had caught up, with houses such as Boots, for example, developing same natural grace arrays. New challengers such as Lush too rose, encroaching on The Body Shop's market share.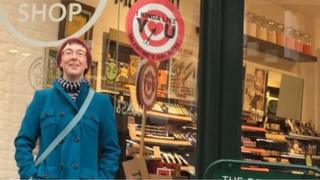 The chain is still a sizeable High Street presence with more than 3,000 storages in 66 countries and utilizes 22,000 beings, according to its internet site.
The Body Shop's makes for 2016 substantiate total sales were 920.8 m euros( 783.8 m ), down from 967.2 m euros in 2015, which L'Oreal accused on marketplace slowdowns in Hong Kong and Saudi Arabia.
The sales were a tiny proportion of L'Oreal's overall 25.8 bn euros of sales for the same period.
And arguably the series – which L'Oreal bought for 652 m ($ 1.14 bn) in 2006 – remains a lower-end and unimportant part of its huge portfolio of labels, which include skincare specialists Kiehl's, Lancome and Garnier, as well as pattern firebrands Ralph Lauren and Giorgio Armani.
Veteran retail analyst Richard Hyman highlights the fact that L'Oreal overpaid for the chain and has failed to add any cost to it.
"Frankly it's a bit of mystery them buying it in the first place.
"What they bought is a retailer and what they're good at is labels, " he responds.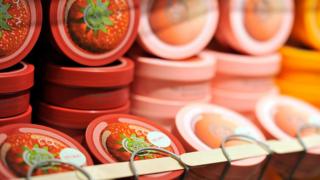 He recollects The Body Shop's struggles are down to the same issues coping with the retail sphere as a whole:
competition from an ever-increasing number of stores all muscling in on the same domain, from supermarkets to way chains the seemingly unstoppable notoriety of online patronize the high cost of extending a large number of stores Image caption